SAVE THE DATE! Improv for Ron is MAY 12th
Saturday, 7:30-9:00, Manasquan High School's
Jack Nicholson Theater

---
---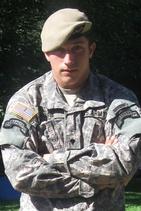 IMPROV FOR RON
This annual fundraiser is a night of student improv that raises money for the Sgt. Ronald A. Kubik Memorial Scholarship, which is awarded to graduating Manasquan High School students who embody Ron's spirit. Ron, MHS class of 2006, was a US Army Ranger who gave his life in Afghanistan in April 2010 saving the lives of 5 fellow Rangers, 5 Afghan soldiers, and 19 Afghani women and children. For his "heroism in combat," he was awarded the Silver Star, the military's third highest honor. Each year Ron's mother, Eileen Daly, gives a speech at this fundraiser and also helps select the scholarship winners.
---
---
THE PLAYERS

Tilly Marks, Tim Moloughney, Colleen Hessinger, Jack Mallett, Kelli Finn,
Jordy Martinez, Luke Morgan,
Galiana Garcia, Tommy Meyer,
Dylan Lembo, Jack Long
​Jack Lueddeke Abby McHugh, Ben Barry
Dan Mulay, Jack Masterson, Ryan Coulson, MattConte, Madi Blecki, Will Conte,
​Miguel Garcia & SPECIAL GUESTS

---

Torrey Grennan, Stephen Trischitta, Kyle Stewart
Shawn Nolan, Kevin Pompilio, Hannah Pringle
Tom Bielicki, Jack Rible, Keira Mulroy
Sean Rogers, Brittney Buechele, Emma Ientile
Emily Neiberlein, Brian Comer, Jackson Dunson
Shane Flanagan, Sarah Gallagher, Brendan Gillespie, Will Conte, Matt Conte, Madi Blecki,
Ryan Coulson, Jack Masterson, Miguel Garcia


---

---


Craig Lapham, Kevin Maldjian
Julia Graney, Allison Frangione,
Ryan Coulson, Miguel Garcia, Jeff Hall
Rachael Gray, Pat Pompilio, Jack Lewis,
Kat Wallace, Zoe Pelly, Carly Garback,
Eddie Franzoni, Jackie Lingo, Hailey Crecca
Nolan Egan, Will Conte, Matt Conte,
Jack Masterson, and Madi Blecki


---

---


Jack Bianco, Madi Blecki,
Alice Boyce, Rhya Castlebury,
Ryan Coulson, Aalyiah King,
Kieran Preston, Kelly Pretz,
Matt Rettig, Ian Roden, Shane Smith,
Jason Trischitta, Jake Vernaglia,
Will Conte, Matt Conte,
Jack Masterson, and Amy Pretz

---

---


Jimmy Walsh, Jake Rothfeld, Kelly Pretz
Eric Beutel, Amy Bielicki, Erik Bogan,
Justin Brooks, Ryan Coulson,
Jake Edick, Matt Forst, Henry Neiberlien,
Ryan Davis, Brody Grennan, JR Hobbie,
Ryan Kraft, JD Kuper, Sarah Levine,
Billy Acciavatti, Will Conte, Matt Castillo,
Dave Schenke, and Amy Pretz

---

---

Bryan Abadrabo, Sean Maldjian, Amy Pretz,
Taylor Fischer, Tyler Caccavale, Adam Kloo, Matt Morotta, Courtney Hulsart, Jeremy Martin, Maggie Gillespie, Ian Colrick, Christian Morgan, Lisa Pringle, Will Conte, Billy Acciavatti, Eric Tremblay, Kim Matthews, Matt Bloodgood, Meredith Bryant, Matt Castillo, Jack Masterson, Matt Conte, and Dave Schenke

---

SGT. RONALD A. KUBIK
MEMORIAL SCHOLARSHIP
WINNERS


---

2017


Tilly Marks
Kelli Finn
Jack Mallett
Colleen Hessinger


2016

Torey Grennan
​Santino "Sonny" Timpani


2015


Zoe Pelly
Ryan Coulson

2014


Kelly Pretz
Kaylan Burns
Christina DiUbaldi


2013


Emily Wall
Jeremy JD Kuper


2012


Amy Pretz
Billy Acciavatti


2011


Michael Cook
Gabriel J. Fallon
Kaitlyn Harris
Reagan Murphy


2010


Michael Frasco
Danica Kovats
Toniann Fernandez

---
IMPROV FOR RON 6 BRINGS IN BIGGEST CROWD YET

IMPROV FOR RON 5 -- May 2016

GO TO NJ.COM
for photos and article


Hit the link above or the Facebook Symbol to watch the show's Video Montage at our Facebook Page.
IMPROV FOR RON Shows 1 - 4 at the Jack Nicholson Theater

---
Join the Shore Fun Improv Family Every September to honor Ron and his family in front of MHS for THE NJ RUN FOR THE FALLEN

It's a great way to honor veterans, celebrate Ron's life, and let all Gold Star Families know that we remember. Go to
www.njrunforthefallen.org
MANASQUAN HS ALUMNI FOOTBALL TEAM RETIRES #81 IN RON'S MEMORY

September, 2015- Eileen Daly, Ron's mom, and former US Marine, Nick Morgan, pose for a picture at the 2nd annual Manasquan HS Alumni vs. Wall HS Alumni football game on September 12, 2015. Nick and the MHS alumni football team honored their former classmate and teammate by retiring Ron's number, 81, before the game. Thanks, Nick, and thanks for your service to America.


---

---

EILEEN DALY HONORED
AT THE 2018 MISS AMERICA COMPETITION


ATLANTIC CITY, N.J. (AP) — Mothers whose sons were killed while serving in the military will be honored this weekend as part of the Miss America competition.
The Miss America Organization, the Got Your Back Network, Caesars Entertainment and others will host nine Gold Star Mothers as honorary Miss Americas on Sunday in Atlantic City.
The moms will be put up and pampered at casinos, will meet with Pentagon officials and will be honored onstage at Boardwalk Hall before the nationally televised finale begins. Among them will be Eileen Daly, of Brick, New Jersey, whose son Sgt. Ronald Kubik was killed in Afghanistan in 2010 and who posthumously was awarded the Silver Star.
She says she's gratified to know their families' sacrifices haven't been forgotten.

--By WAYNE PARRY, Associated Press 9/7/2017


---
---
Ron's Own Words From 2006 & On His Plaque At Manasquan High School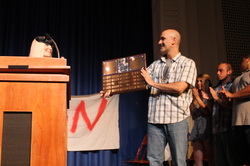 WE CAN CHANGE THINGS, WE CAN MAKE THINGS BETTER

The majority of people reading this are under thirty years old and I seriously need to talk to you. We are here on earth and we have the opportunity to do something truly great. We are the youth. We are the future of this nation and this world. We can change things. We can make things better. We can do whatever we set our minds to, even if it is one thing, one small change that we help create to better ourselves, our friends, our country. All it takes is a dream. Find a topic you believe in and fight for it people, make your dreams a reality. Thank you so much for reading this. Have an amazing life, and don't forget to do your part for yourself, your friends, and your society.

---