---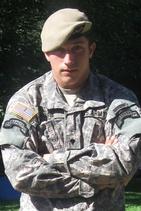 IMPROV FOR RON
This annual fundraiser is a night of student improv that raises money for the Sgt. Ronald A. Kubik Memorial Scholarship, which is awarded to graduating Manasquan High School students who embody Ron's spirit. Ron, MHS class of 2006, was a US Army Ranger who gave his life in Afghanistan in April 2010 saving the lives of 5 fellow Rangers, 5 Afghan soldiers, and 19 Afghani women and children. For his "heroism in combat," he was awarded the Silver Star, the military's third highest honor. Each year Ron's mother, Eileen Daly, gives a speech at this fundraiser and also helps select the scholarship winners.
---
---
A Special Morning in front of MHS on Sunday, September 25th
A heartfelt thanks to all the family & friends; MHS students, staff & administration; and Mr. Abraham and the all-volunteer band who came out Sunday morning to honor Sgt. Ronald A. Kubik and his family during the annual NJ Run for the Fallen. The beautiful weather and patriotic music made everyone feel inspired and proud to be members of our Manasquan family.
---
IMPROV FOR RON 5 -- May 2016
IMPROV FOR RON DOES IT AGAIN! $4000!

May 21, 2016--Thanks so much everyone: together we raised $4000! That show had it all: Sleeper Holds, Box Drums, Matt Damon on Pluto, Muskrat Badminton, Proverbs Not to Live By, Chicken Stealing (Marriages?), Sewer Labor, Parents Who Won't Teach Their Kid to Read, Shirt-Ripping Fashion, Desperate Couples making PowerPoint Slideshows, and Ryan Coulson's Strange, Finger Self-Esteem Dance, just to name a few moments! And an inspiring message at the end. Turn in your applications asap.

THE BRICK TIMES HONORS RON
ON MEMORIAL DAY WEEKEND

WOW! Front Page of
​The Coast Star

---

GO TO NJ.COM
for photos and article

---

Click Below for the
Stephanie Miles
​Photo Album

---
IMPROV FOR RON at the Jack Nicholson Theater
THE PLAYERS

---

Tilly Marks, Tim Moloughney, Colleen Hessinger, Jack Mallett, Kelli Finn,
Jordy Martinez, Luke Morgan,
Galiana Garcia, Tommy Meyer,
Dylan Lembo, Jack Long
​Jack Lueddeke Abby McHugh, Ben Barry
Dan Mulay, Jack Masterson, Ryan Coulson, MattConte, Madi Blecki, Will Conte,
​Miguel Garcia & SPECIAL GUESTS

---

Torrey Grennan, Stephen Trischitta, Kyle Stewart
Shawn Nolan, Kevin Pompilio, Hannah Pringle
Tom Bielicki, Jack Rible, Keira Mulroy
Sean Rogers, Brittney Buechele, Emma Ientile
Emily Neiberlein, Brian Comer, Jackson Dunson
Shane Flanagan, Sarah Gallagher, Brendan Gillespie, Will Conte, Matt Conte, Madi Blecki,
Ryan Coulson, Jack Masterson, Miguel Garcia

---

---


Craig Lapham, Kevin Maldjian
Julia Graney, Allison Frangione,
Ryan Coulson, Miguel Garcia, Jeff Hall
Rachael Gray, Pat Pompilio, Jack Lewis,
Kat Wallace, Zoe Pelly, Carly Garback,
Eddie Franzoni, Jackie Lingo, Hailey Crecca
Nolan Egan, Will Conte, Matt Conte,
Jack Masterson, and Madi Blecki


---

---


Jack Bianco, Madi Blecki,
Alice Boyce, Rhya Castlebury,
Ryan Coulson, Aalyiah King,
Kieran Preston, Kelly Pretz,
Matt Rettig, Ian Roden, Shane Smith,
Jason Trischitta, Jake Vernaglia,
Will Conte, Matt Conte,
Jack Masterson, and Amy Pretz


---

---


Jimmy Walsh, Jake Rothfeld, Kelly Pretz
Eric Beutel, Amy Bielicki, Erik Bogan,
Justin Brooks, Ryan Coulson,
Jake Edick, Matt Forst, Henry Neiberlien,
Ryan Davis, Brody Grennan, JR Hobbie,
Ryan Kraft, JD Kuper, Sarah Levine,
Billy Acciavatti, Will Conte, Matt Castillo,
Dave Schenke, and Amy Pretz

---

---

Bryan Abadrabo, Sean Maldjian, Amy Pretz,
Taylor Fischer, Tyler Caccavale, Adam Kloo, Matt Morotta, Courtney Hulsart, Jeremy Martin, Maggie Gillespie, Ian Colrick, Christian Morgan, Lisa Pringle, Will Conte, Billy Acciavatti, Eric Tremblay, Kim Matthews, Matt Bloodgood, Meredith Bryant, Matt Castillo, Jack Masterson, Matt Conte, and Dave Schenke

---

SGT. RONALD A. KUBIK
MEMORIAL SCHOLARSHIP
WINNERS

---

2017


Tilly Marks
Kelli Finn
Jack Mallett
Colleen Hessinger


2016

Torey Grennan
​Santino "Sonny" Timpani


2015


Zoe Pelly
Ryan Coulson

2014


Kelly Pretz
Kaylan Burns
Christina DiUbaldi


2013


Emily Wall
Jeremy JD Kuper


2012


Amy Pretz
Billy Acciavatti


2011


Michael Cook
Gabriel J. Fallon
Kaitlyn Harris
Reagan Murphy


2010


Michael Frasco
Danica Kovats
Toniann Fernandez

MANASQUAN HS ALUMNI FOOTBALL TEAM RETIRES #81 IN RON'S MEMORY

Eileen Daly, Ron's mom, and former US Marine, Nick Morgan, pose for a picture at the 2nd annual Manasquan HS Alumni vs. Wall HS Alumni football game on September 12, 2015. Nick and the MHS alumni football team honored their former classmate and teammate by retiring Ron's number, 81, before the game. Thanks, Nick, and thanks for your service to America.

---

Improv For Ron 4 Raises $4000

Thanks to everyone who helped this year, and a special nod to Ron's mom, Eileen Daly, and Ron's uncle, Dan Daly, for a night of laughter and inspiration. Also, thanks to our amazing performers, Mrs. & Mr. Fenlon, the tech crew, the ushers, and most of all the fans who keep coming back and who were so generous this year--the most money we've raised yet. We appreciate all of you who made this a special night.


---
Ron's Own Words From 2006 & On His Plaque At Manasquan High School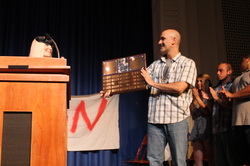 WE CAN CHANGE THINGS, WE CAN MAKE THINGS BETTER

The majority of people reading this are under thirty years old and I seriously need to talk to you. We are here on earth and we have the opportunity to do something truly great. We are the youth. We are the future of this nation and this world. We can change things. We can make things better. We can do whatever we set our minds to, even if it is one thing, one small change that we help create to better ourselves, our friends, our country. All it takes is a dream. Find a topic you believe in and fight for it people, make your dreams a reality. Thank you so much for reading this. Have an amazing life, and don't forget to do your part for yourself, your friends, and your society.

---
---
March 20, 2015--Ron's Mom, Eileen Daly, is on 92.7 WOBM Talking About "Improv for Ron" & Raising Money for New Jersey Gold Star Families Monument
$70,000 of the $100,000 needed to build a permanent memorial dedicated to New Jersey Gold Star families whose children don't return from war, has been raised in less than a year.
The monument would be located next the existing
New Jersey Vietnam Veterans War Memorial and Museum in Holmdel
, according to those spearheading the fundraising efforts.
Vietnam Veteran Terry Fearon of Brick Township
jump-started the idea of having a memorial dedicated to Gold Star Families last Fall. He pointed out that while service dogs have a monument, nothing exists for Gold Star families. "Every day is Memorial Day to Gold Star families," said Fearon during an appearance on Wednesday's "Townsquare Tonight" program on WOBM-AM 1160 and 1310.
Townsquare Tonight, March 18, 2015 Part 1
Townsquare Tonight, March 18, 2015 Part 2
Gold Star mother Eileen Daly of Brick Township
lost her son, a
U.S. Army Ranger
in the elite 3rd Battalion, in the 75th Regiment,
Sergeant Ronald A. Kubik
, on April 23, 2010, during Operation Enduring Freedom, in Logar Province, Afghanistan while leading an assault team. He had completed three tours of duty by age 21. Kubik was a 2006 graduate of Manasquan High School.
"You're heart is broken. You're in shock. You just can't wrap your head around the fact that your child is never going to come home, " said Daly. "He was an amazing young man, and he was strong and independent and he loved life, and he had an enthusiasm for life." She said she's now using that grief as energy to give Gold Star families a voice.
Sgt. Kubik saved 29 lives the day he was killed, including 19 Afghan women and children. In 2013, he was awarded the military's 3rd highest decoration for valor – the Silver Star. "He has the Purple Heart, the Meritorious Service Medal, the Bronze Star, and now the Silver Star, so he's really an amazing hero," Daly said.
Names of heroes like Kubik will be permanently etched in the monument, that according to Fearon, will consist of a 20 ton obelus of black granite on a pedestal in a tranquil setting. The monument also will serve as an educational tool for students who visit the Memorial during class trips. Fearon said charities and Gold Star Families have contributed funding for the project. The Lieutenant Dennis W. Zilinski II Memorial Fund recently donated $12,500 to help fund the Gold Star Family Monument. Donations are tax deductible and can be made to the 501(C)3 online at
njgoldstarfamilymonument.org
.
Meanwhile, a fundraiser to benefit the
Sgt. Ronald A. Kubik Memorial Scholarship Fund
is being held Saturday, May 9, 2015, at 7:30 p.m. at Jack Nicholson Theater at Manasquan High School. Admission for "Improv For Ron" is $10. For more information, email jmawn@manasquanboe.org or hharvey@manasquanboe.org.
Read More:
War Monument for NJ Gold Star Families Closer to Reality
written by Dianne DeOliveira